News
Objects for sale
** All apartments are already reserved. **
| | |
| --- | --- |
| address | 14+16, Konsdreffer Strooss L-6230 Bech |
| state of affairs | familiy friendly location |
| type of property | 8-Unit-House |
| energy efficiency class | energy efficienc class A thermal insulation class B |
| start of the construction | autumn 2019 |
| housing units | 8 condominiums with loggia and terrace or loggia and balcony |
| size of the apartments | 104 cqm - 162 cqm |
| number of rooms | 3 - 5 rooms |
| accoutrement | upscale: underfloor heating, barrier-free shower, tiles, real wood parquet |
| technique | Air-water heat pump for underfloor heating, exhaust air heat pump for hot water supply, comfort ventilation system |
| parking space | 4 |
| garage | 14 |
| procession | connects parking level with living floors |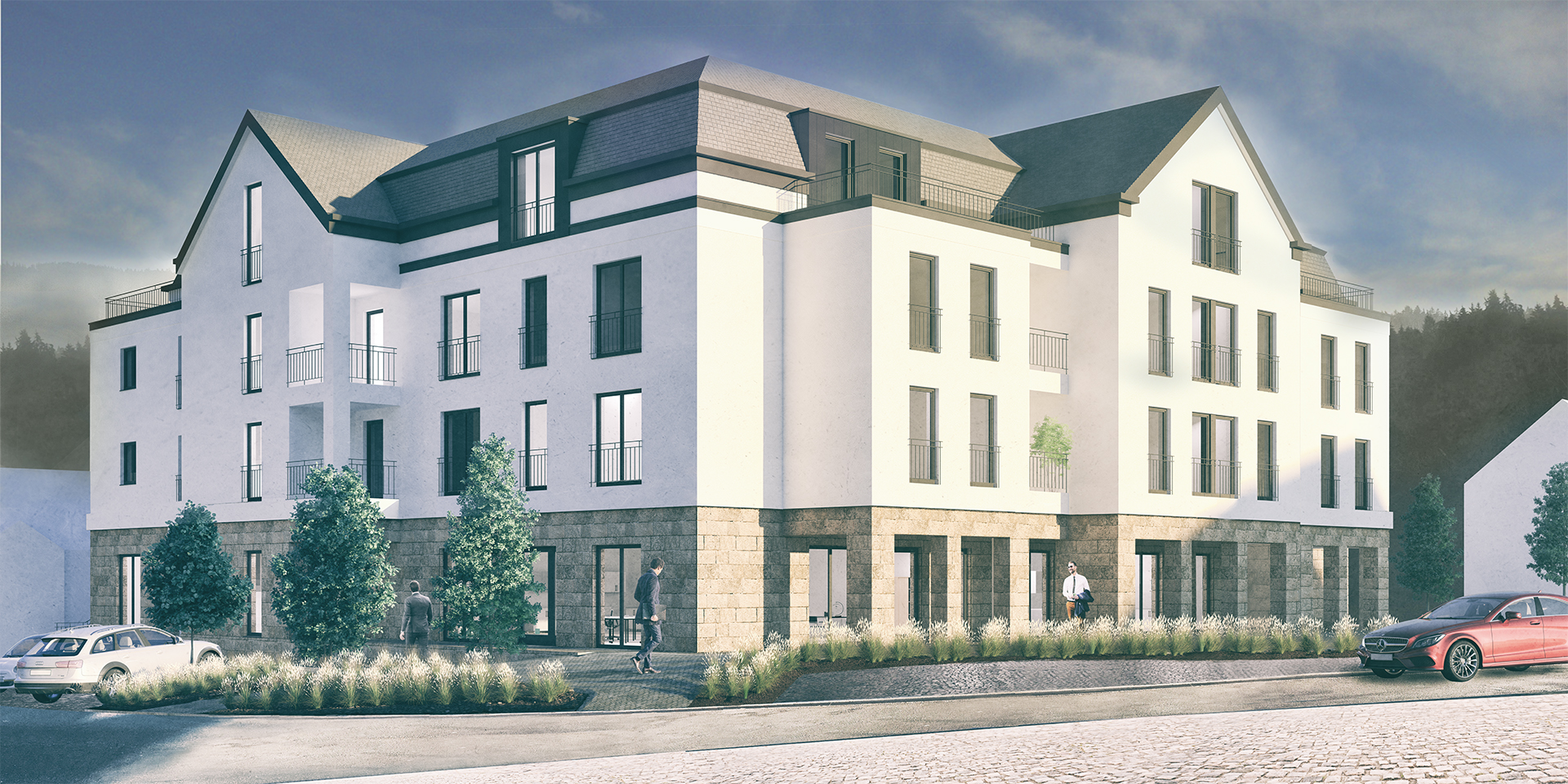 | | |
| --- | --- |
| address | Hauptstraße 2 D-54666 Irrel |
| state of affairs | central location town center |
| type of property | Residential and commercial building with 16 condominiums and 5 commercial units |
| energy efficiency class | low energy house, KfW-55 (promotional opportunities through KfW-Bank) |
| start of construction | january 2019 |
| housing units | 16 condominiums with loggia or roof terrace |
| size of the apartments | 79 sqm - 141 sqm |
| number of rooms | 2-4 rooms |
| accoutrement | upscale: underfloor heating, barrier-free shower, tiles, real wood parquet |
| technique | Air-water heat pump for underfloor heating, exhaust air heat pump for hot water supply |
| commercial units | 5 commercial units with individual division and sector-specific expansion (separate building description) |
| underground parking spaces | 37 |
| procession | connects underground level with living floors |
| | |
| --- | --- |
| Address | Stahler Weg 18, 18a, 20, 20a D- 54634 Bitburg Stahl |
| state of affairs | familyfriendly location |
| type of property | 4 terraced house with two flats each |
| energy efficiency class | KfW- 55 (promotional opportunities through KfW-Bank) |
| start of construction | not yet done |
| housing units | 1 apartment on ground floor with terrace, 1 apartment on staggered floor with roof terrace |
| size of the appartments | 76 sqm & 110 sqm |
| number of rooms | 2 & 3 rooms |
| accoutrement | upscale: underfloor heating, barrier-free shower, tiles, real wood parquet |
| technique | Air-water heat pump for underfloor heating, exhaust air heat pump for hot water supply |
| exterior parking lots | 2 |
| garage parking space | 2 |
** All apartments have already been sold. **
| | |
| --- | --- |
| address | Eisenbahnstraße 5 D-54294 Trier-Euren |
| state of affairs | central location in the up-coming district of Trier-Euren |
| type of property | 9-Unit-House |
| energy efficiency class | KfW- 55 (promotional opportunities through KfW-Bank) |
| start of construction | autumn 2018 |
| housing units | 9 condominiums with balcony or terrace |
| size of the apartments | 74 sqm - 99 sqm |
| number of rooms | 2 - 4 rooms |
| accoutrement | upscale: underfloor heating, barrier-free shower, tiles, real wood parquet |
| technique | Air-water heat pump for underfloor heating, exhaust air heat pump for hot water supply |
| exterior parking lots | 5 |
| underground parking spaces | 6 |
| procession | connects underground level with living floors |
| | |
| --- | --- |
| address | An der Berensgrub 2 D-54344 Kenn |
| state of affairs | family-friendly location in the residential area Kenner Ley II |
| Type of property | 5-Unit-House |
| energy efficiency class | KfW- 55 (promotional opportunities through KfW-Bank) |
| start of construction | april 2018 |
| housing units | 5 condominiums with balcony or terrace |
| size of the apartments | 95 sqm - 125 sqm |
| number of romms | 3- 4 rooms |
| accoutrement | upscale: underfloor heating, barrier-free shower, tiles, real wood parquet |
| technique | Air-water heat pump for underfloor heating, exhaust air heat pump for hot water supply |
| parking space | 6 |
| garage | 6 |
| procession | connects parking level with living floors |
Real Estate in process of planning
Buying real estate is often an interesting alternative to customised construction. No matter if you are looking for turnkey condominiums or apartments, semi-detached houses, terraced houses or detached houses - a consequent and modern design and an intelligent method of construction turn every solid house into an attractive investment for the future.

We give you freedom for your own ideas as far as the interior decor such as floor coverings, tiles, doors, painting work and sanitation is concerned. You can hereby choose from modern equipment of high quality.

Do a 3D tour of our show flat.
3D tour

In the case of buildings built as KfW energy-efficient houses, KfW-Bank offers attractive promotional opportunities, e.g. • Low-interest annuity loans with redemption-free start-up years
• Possibility of special repayment
• Redemption subsidy of 5% of the loan amount, up to EUR 5,000 for each housing unit,
Find out more about KfW's promotional activities.

In case the ground plans do not completely meet your requirements yet, there is the possibility of individual adjustment, depending on the stage the planning is in. Our engineers are happy to give you advice without obligation in one of our business premises.
We are always interested in plots capable of development or ready for building, no matter which order. Do you maybe own such a plot or a building capable of development which we could convert in an appropriate location? Do not hesitate to contact us without obligation. We will check its potential and we are happy to present an offer to you. For investors we keep an innovative project portfolio ready at hand which we are looking forward to explaining to you in a conversation.